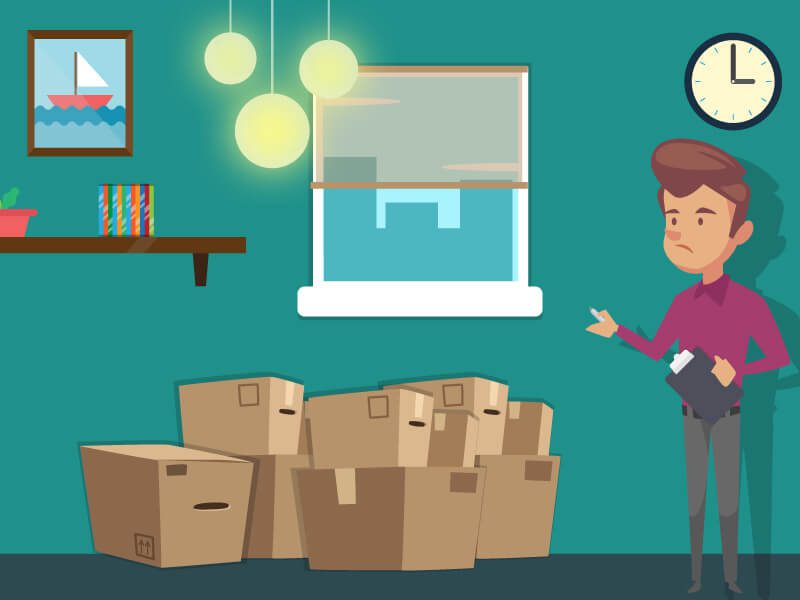 Moving can be super stressful.
There are multiple parties to coordinate with, thousands of things you need to pay attention to and combine this with "the spouse & kids" factor – it can wreak havoc to your couple of weeks!
The trick to successful and stress-free moving is to be organised and have a moving checklist.
We have created The Comprehensive Moving Checklist created specifically for Singaporeans below, divided into timelines, for your easy reference.
6 Weeks Before
Take Pictures of Your Home
Not only does this allow you to be nostalgic 10-15 years from the moving date, but it will also serve as a good reference point for your movers for quotation purposes.
Research Movers
There are all kinds of movers out there. Some will provide you with full-service packing, wrapping and moving. While others will just provide lorry and helpers for loading & unloading.
If budget is not an issue, a full-service mover would remove a lot of headaches. If it is a concern, you may look at a more DIY (Do-It-Yourself) moving solution.
Google, Facebook and Review sites are your friends at this point. You may run a Google search with keywords such as "movers Singapore", "home movers Singapore".
Create an Essential Documents Binder
Please make sure these important and essential documents are stored safely in a binder:
Medical documents
Tax records
Mortgage papers
Insurance cards
Past utilities bills
Salary slips
Passports, birth certificates
Bank/savings book
Investment certificates (Fixed deposits, mutual funds)
Marriage certificates
Lease contracts
Blueprint of New Home
Do a site survey of your new home. Request for a blueprint from your landlord/developer. If not, create your own. This will make it easier for you to visualise and plan furniture positioning. Format as per below: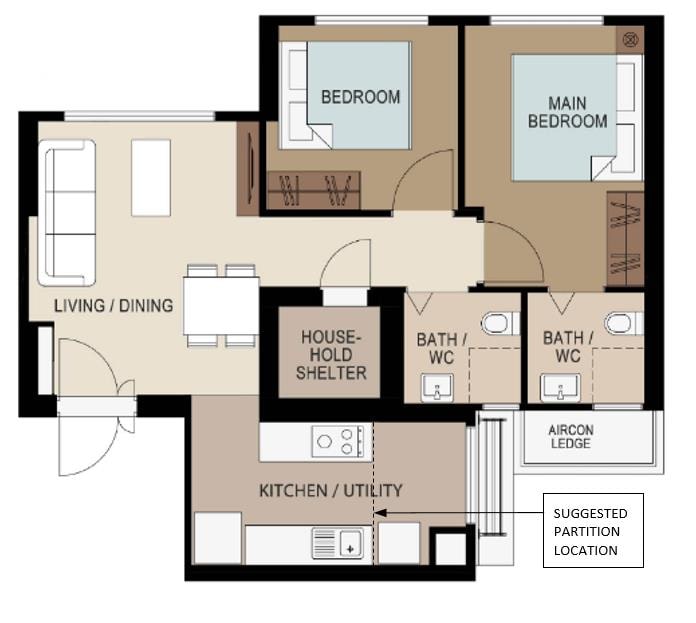 Slow Down on Grocery Purchases
Only purchase what you need for the next 6 weeks.
Buy Supplies
You will need supplies to make sure your move is smooth. Your movers might provide them but it's way cheaper to purchase them on your own. You will need these:
Boxes
Tape
Stretch film/shrink wrapping
Bubble wrapping
Markers
Labels
Stickers
Tape dispenser
Notify Your Neighbours, Friends and Family
It's going to be a sad day for your neighbours (we hope!). Best to notify them ahead of time!
Notify The Landlord
If you are renting your current home, please inform your landlord at least 60 days in advance or whatever period that is stipulated in your lease contract.
5 Weeks Before
Tag All Your Belongings
Furniture that's originally in the living room of your old house might go into the bedroom of your new house (because your spouse said so!). Tag everything with labels. You may use the colour coding suggested below:
Living room
Living room 2
Kitchen
Dining room
Master bedroom
Bedroom 1
Bedroom 2
Bedroom 3
Keep, Sell, Donate or Throw
While tagging your items, ask yourself if you'd like to:
Keep – You'd like to bring them over to your new house
Sell – You have the budget to buy a new one at your new home and want to make some extra cash
Donate – The item is of no use to you but would be of great use to charity homes
Throw – It is of no use and has no resale value. You're pretty sure that charities wouldn't want the item either
Sell items on Carousell
If you'd like to sell off old items, we strongly recommend Carousell. Go ahead and post an item and stick a price on it.
All you have to do then is wait for potential buyers to contact you. Tip: mention in the remarks that buyers will have to pick up the items themselves. Less hassle for you!
Donate To Charity
Here's a handy list of charities in Singapore that you can donate your items to:
Throw Away Your Unwanted Items
If you live in HDB, you may call up your nearby community centre to dispose of large and bulky items to the nearby rubbish chute. If you're living in a Condominium, you may call up a disposal services company to pick up your unwanted items.
4 Weeks Before
Finalise Movers
Choose a moving company that fits your budget, meets your requirements and are generally likeable!
Start Packing
You may now start packing clothes and other essentials into boxes. Label and tag them accordingly.
Change address
You would need to speak to these parties and inform your address change:
Bank
Credit card company
Insurance company
Lawyer
Doctor
Employer
Internet provider
Cable provider
Water
Electric
Mobile phone and landline
Apply for leave
Apply for leave from your current employer (provided you'll be working in the same company post-moving).
Cancel Subscriptions
Cancel home subscriptions to the below services:
Newspaper
Lawn mowing (if you live in a landed property)
Cleaning
1 Week Before
Confirm Appointment With Your Movers
Speak to your movers again and confirm the date/time together with all your personal contact details and addresses.
Create a First Day Kit
On the first day of moving in, you'll need some basic items handy in a separate luggage/box. This is to prevent you from unnecessary unpacking especially after a tiring moving day! You'll need these items:
Toilet paper
Towels
Hand soap
Soap
Tissues
Dish soap
Sheets
Blankets
Chargers
Cleaning supplies
Garbage bags
Flashlight
Scissors
Clothes
Paper plates and cups
Toys for kids
Knife
Hammer
Coffee/tea
Throw Perishables Away
Start cleaning up your refrigerator and throw away perishables.
Book a Cleaner
You'll need moving-in and moving-out cleaners. Go ahead and run a search on Google for "cleaning services Singapore" and get the best quotation!
Apply Moving Form
If you living in a Condominium, this is an absolute must. Most condominiums will only allow moving in between 9 am – 5 pm on weekdays and up to 1 pm on a Saturday.
Sunday and public holidays are a big no-no. HDBs on the other hand have no such restrictions.
1 day before
Remind Movers Again
Reiterate again on timing, addresses and location of the loading bay, etc. Best to overprepare the movers so that it'd be a smooth process overall.
Check Payment Method
Check with your movers on their preferred payment method. Some would prefer cash, some would prefer bank transfers.
Defrost Your Fridge
Clear Your Rubbish
Last-Minute Checklist
Moving Day
Do a Final Check
Make sure the below are completed before leaving your home for the last time:
Are all the windows closed and locked?
Are all the doors closed and locked?
Airconditioners turned off?
Utilities (water, electricity) have been disconnected and shut off?
Take a photo of your utilities meter reading
Did you leave anything behind?
Post-moving day
Familiarise With New House
Go ahead and familiarise yourself with your new house. Understand where exactly are the:
Air conditioners
Water metre
Electricity metre
Broadband port
Circuit breaker
Familiarise With All The Facilities In New Area
If you haven't already, get to know these important places in your new neighbourhood:
Supermarkets
Food court/Hawker centre
Restaurants
Police stations
Fire stations
Hospitals, clinics
Post office
Schools
Ask Your Old Neighbour To Check On Your Mail
You might have some letters still sent to your old house. It's best to request your neighbour to check on a periodic basis.
Conclusion
We hope that was useful and hope that it would lead you to have a stress-free move!
If you do need any help in moving, please visit our website at https://thelorry.com/sg.
We provide instant quotations within minutes through our website and mobile app and provide you with reliable and trustworthy movers!